by Greg Ross, Connected Vehicles Practice Lead, motormindz
This is a reprint from an article featured on Automotive News.
The Vehicle-as-a-Platform Inflection Point
OEMs are arriving at an industry inflection point, as connected vehicles become mobile hardware and software platforms – driven by increasing edge-computing and communications capabilities – and each containing hundreds of chips. OEM's core business models must evolve, along with their core competencies, to fully embrace a new Integrated Connectivity Ecosystem model that can help them maximize their company economics through business models previously unavailable to their industry.
While this evolution will take decades to complete, the Vehicle-as-a-Platform inflection point indicates that Connectivity can no longer just be a capability in OEM product roadmaps – but needs to become something more, something that OEMs own the creation of as a separate business unit with its own business models, growth goals, revenue streams, customers, and partner ecosystems.
Connectivity as an owned core competency rather as a feature or participant business will increasingly determine winners and losers among auto manufacturers within that timeframe.
Connectivity: From Capability to Core Competency
Historically, within the automotive industry there have been several critical, core competencies that an OEM needed to develop to remain competitive. Traditionally, these have been:
Product Design
Product Engineering
Powertrain / Propulsion
Manufacturing
Supply Chain and Logistics
Sales and Marketing
Over time, manufacturers have invested in these areas to gain strategic advantage and to gain market share from competitors.  Some classic examples are:
Ford's Manufacturing innovations that drove down the cost of the Model T and created the mass-market automotive industry
GM's use of Product Design and Brand Marketing to overtake Ford
VW's Product Design and Sales and Marketing to create and develop the small car market in the US
Toyota's investments in Lean Manufacturing to drive down costs, drive up quality, and gain global market share
Tesla's innovations in Powertrain / Propulsion to spark the current movement toward electrification
Traditionally, these core competencies, and the investments into new ways of performing them have been enough for top OEMs to gain an edge, or at least to remain competitive. But, as the industry has reached a new technology-driven inflection point, with cars becoming hardware and software platforms – these are no longer enough – and areas formerly regarded as only capabilities, like Connectivity, must now be explored as potential new core competencies.
Intel's Integrated Device Maker model
For many years, industry observers have thought Intel would split into two separate companies: one that designs chips, and another that manufactures them. The reasoning was that being both a designer and a maker of chips is extremely difficult as a singular business – due to the sheer complexity of each role, combined with the fact that manufacturing chips becomes exponentially expensive as chip nodes shrink in size, making managing both businesses successfully very challenging.
This idea has remained a pivotal one throughout the company's history, as Intel has explored and expanded what its core competencies were – and were not. Fifty-three-year-old Intel has held onto both roles through an Integrated Device Maker model since the first days of the company.
Earlier this year, as Intel veteran Pat Gelsinger was appointed CEO of the company, this important question resurfaced. Gelsinger had to decide if Intel's Integrated Device Maker model was the correct choice for the future of the business – namely if Intel's core competencies would continue to include both roles. Was Intel better off focused solely on designing chips, with a separate company conducting fabrication? Or would Intel be better served, stronger, and establish more viable future growth through a fabrication core competency?
Gelsinger's resounding answer came in March, when he announced Intel Foundry Services as a new business division reporting directly to him – stating that "The old Intel is the new Intel" – and by announcing $20 billion in new investments to build two Intel fabrication facilities in Arizona. Intel is once again committed to fabrication as a core competency and will be for the foreseeable future.
Intel clearly understands global chip supply as the semiconductor industry's current inflection point, and that its future success as a chip designer is intrinsically tied to its ability to manufacture its own chips on its own terms, and vice versa. Intel's ability to control future product features, protect product design freedom, and to drive long-term company innovation while maximizing company economics is tied directly to its ability to design, manufacture, and ultimately supply the vast number of chips needed to support a global computerized future.
By recommitting to fabrication as a core competency, Gelsinger showed enough vision to realize what this could mean for Intel – and did so in the midst of the Automotive industry's biggest global historical chip shortage, and with massive pressure from Asian semiconductor manufacturers to completely own fabrication worldwide.
The situation Intel just faced is very similar to the one OEMs are currently facing, not in terms of deciding their core competencies – but also in understanding the future dynamics of the automotive industry's potential Connected revenue streams and market growth potentials. Also, this inflection-driven automotive core competency shift for OEMs promises many of the same advantages as Intel's core competency recommitment.
OEM Integrated Connectivity Ecosystem Model
Similar to how Intel saw that keeping control of manufacturing and supply was the critical key to its retaining complete control of future product features, product roadmap and design freedoms, and future innovations and company successes, OEMs – relatively new to the growth dynamics of the hardware and software businesses – must see the difference between being strictly a compatibility partner within a greater Connected ecosystem, and controlling the supply and behaviors of connected vehicles to force others to become compatibility partners to them, and how their own connected vehicles could function as the "chips" on which the Connected Mobility Future ecosystem will be built.
OEMs that have enough vision to see these emerging dynamics of the coming Connected Mobility Future, and adopt this progressive Integrated Connectivity Ecosystem model can use it to:
Innovate their products and product lines faster
Create new products, business models, and partnership ecosystems
Build much closer, and much more permanent, relationships with customers
Dramatically reduce costs and increase profitability
To truly embrace Connectivity as a core competency and the Integrated Connectivity Ecosystem model, OEMs will have to move through a progressive model: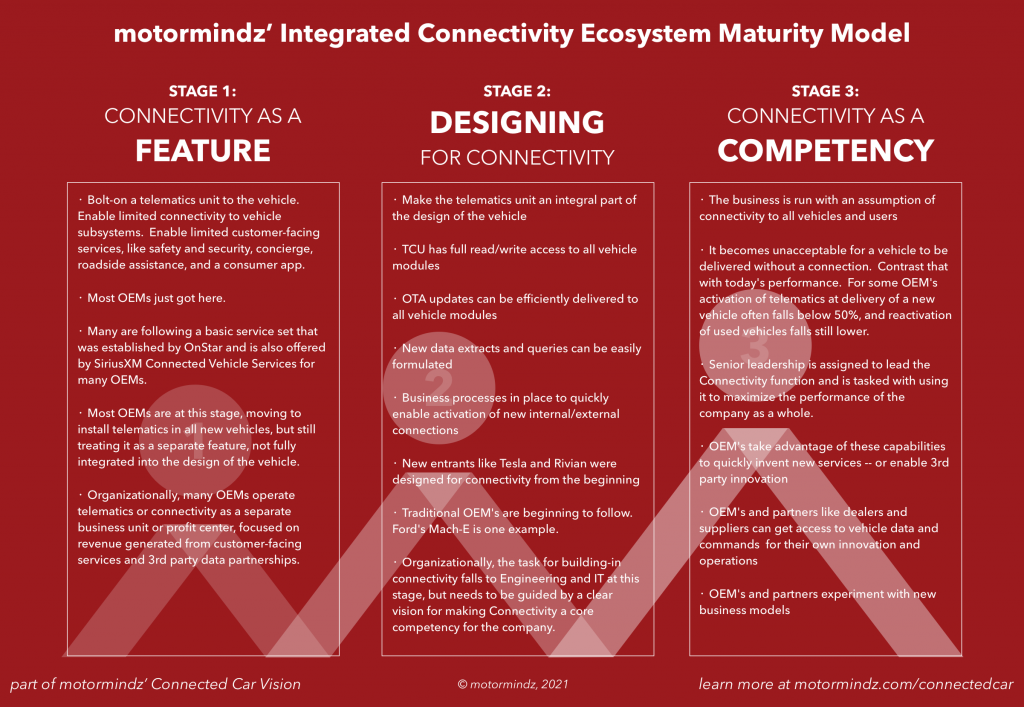 Stage 1: Connectivity as a Feature
Most OEMs just got to Stage 1, and many are following a basic service set that was established by OnStar and is also offered by SiriusXM Connected Vehicle Services.
Organizationally, many OEMs operate telematics or connectivity as a separate business unit or profit center, focused on revenue generated from customer-facing services and 3rd party data partnerships.
This was a model pioneered by GM's OnStar, and it was effective for bringing focus to the delivery of key services, but it alone is not sufficient for integration of Connectivity as a core competency.
Stage 2: Designing for Connectivity
New entrants like Tesla and Rivian were designed from the beginning to take advantage of connectivity, but traditional OEMs are now beginning to follow suit. Ford's Mach-E is one example. Organizationally, the task for building-in connectivity falls to Engineering and IT at this stage, but needs to be guided by a clear vision for making Connectivity a core competency.
Most OEMs still have a long way to go and getting this done will take a long time at the current pace, because it requires a re-architecting of the entire vehicle electrical system. Several companies have outlined visions for these moves, including startups like Sibros or established Tier 1's like Aptiv, with its "Smart Vehicle Architecture" concept.
Stage 3: Connectivity as a Core Competency
In the final stage, the business is run with an assumption of connectivity to all vehicles and users, and it becomes unacceptable for a vehicle to be delivered without a connection.
No OEM is fully here yet, but we have discussed in past articles some examples of the ways that some companies are beginning to innovate based on an assumption of "always available" connectivity:
Tesla's Sales and Service network could not operate effectively without connectivity
Rivian's wraparound insurance and claims management system will only operate with deep connections and insights gathered from vehicles on the road and from claims from Rivian-operated repair centers
GM's BrightDrop commercial vehicle and services offering can only operate with deeply integrated connectivity between vehicles and fleet operators
Conclusions
Adopting connectivity as a core competency is a big move for OEMs that cannot be accomplished overnight. But it is a move that the Connected Mobility Future requires of OEMs that have enough vision to see how being on the right side of Connectivity ecosystem dynamics currently being created will be the difference between strictly being a compatibility partner within an uncontrolled ecosystem, and instead controlling the supply and methodology of connected vehicles – forcing others to become compatibility partners to them – and how their connected vehicles could function as the "chips" of the Connected Mobility Future ecosystem.
These are very exciting times within the Connected Car space, with both incumbents and new players alike finding ways to use new technologies to build new business ecosystem as part of the Connected Mobility Future. motormindz has extensive experience identifying and leading industry innovation, driving the creation of new business models and product ecosystems, and helping OEMs position themselves for the future. Get connected with us, to "get" Connected today.
---
If you are a dealer or a manufacturer who is starting to think about how your business and the experience you provide to your customers might be enhanced through Connected Car technologies, motormindz can provide guidance, solutions, and connections to help you navigate this new connected landscape profitably. Fill out our contact form to begin a dialogue to explore solutions to the challenges mentioned in this article, and to get prepared for other current and emerging trends shaping your business' environment, as well as experience some of the latest connected innovations that are driving dealer capability, efficiency, and profitability within this space and learn how you can leverage them to your businesses' advantage, and then follow us on LinkedIn.